THE COMPANY, HISTORY AND BUSINESS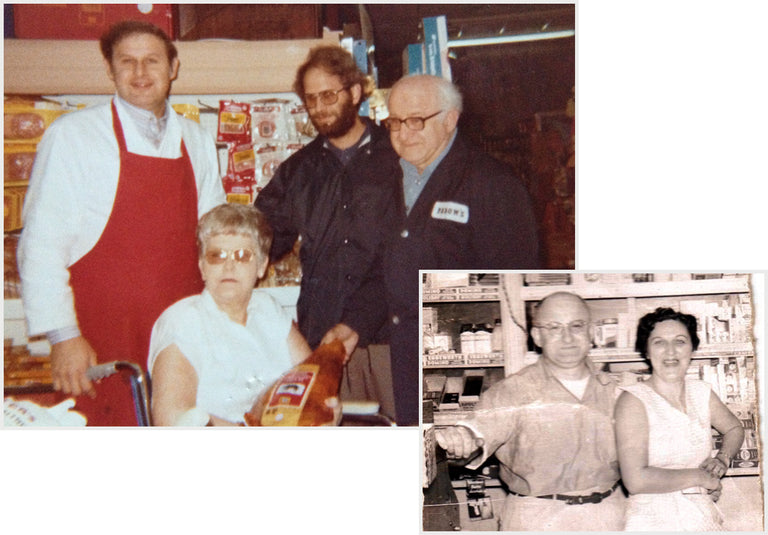 The Padow family has a long tradition in the deli, grocery and ham business. Over eighty years ago in 1936 George Padow opened his first grocery and retail outlet in the historic Jackson Ward area of Richmond, Virginia. The Company quickly became a household name and established its reputation as a purveyor of delicious quality hams and meats at reasonable prices.
A generation later, George's sons Sidney and Eddie had the vision and determination to adapt the Company to meet the changing needs and demands of its loyal customers. In the 1980's they decided to leave the grocery store format behind to expand their product offerings.
The Padow reputation now was recognized for serving delicious deli meats, homemade soups, pizza, pasta and more! The specialty retail food shops were no longer only available locally but some of their products were available through their International mail order catalog and online shopping site.  
In 1988 they opened their first Padow's Hams & Deli serving a variety of sandwiches in the Willow Lawn Shopping Center in the West End of Richmond. A second shop was opened in the Stein Mart Festival Shopping Center on the city's Southside in 1990. They then opened a third shop in 1992 on East Main Street in the heart of downtown Richmond's financial district.  
Their loyal customer base now wanted additional locations! Two years later in September 1994 the first Padow's Deli Shop was licensed in a Convenience store on Route 10 (Ironbridge Road) in Chesterfield County, Virginia. That location later closed when the original owner passed away, however the road to franchising had begun.  
In July 2000 the Company owned store in the Stein Mart Festival Shopping Center on Midlothian Turnpike was sold as a franchise. The City Hall Deli, also originally a Company owned location was sold as a franchise in March 2004. Several months later in September 2004 the Company owned Main Street location was sold as a franchise. Over the years the Hams & Deli Franchises opened throughout Virginia from Roanoke to Williamsburg.  
The Padow brothers continued the expansion of Company owned Hams & Deli stores in January 2005 opening in the Circuit City Shopping Center and later moving to the Innsbrook Area of Gen Allen. Today that location plus four franchises are still in operation.  
Sidney and Eddie Padow continue the Padow Family Tradition today. They look forward to fulfilling the shopping needs of their customers by serving top quality Deli meats, hams, Peanuts and Gift Baskets for many years to come.  Taking over the online shopping experience, Stephanie Padow Manheim is following in her father Sidney's footsteps. She will be shipping Hams, Peanuts, Jellies, VA Mixes, Gift Baskets, and more.